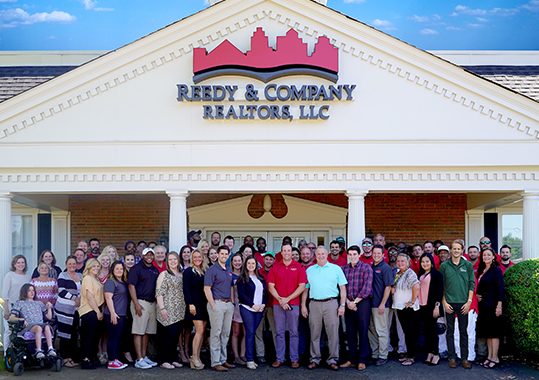 Unrivaled Property Management Services

Founded in Memphis in 2002, Reedy & Company is one of the areas leading property management companies. Our experience includes managing over 3,500 properties owned by local, domestic and foreign investors.
Our scale gives us wide-ranging specialist and local knowledge, and we take pride in providing best-in-class advice as we help individuals, businesses and institutions make better property decisions.
We want owners to become more profitable and successful
Reedy & Company manages more than 3,500 properties owned by local, domestic and foreign investors. We offer services to investors that other property management companies do not.
Here's what people say
about us
Ab helped me get approved for my place thank you so much… very smooth process
JeRhonda W.
20:57 17 May 21
destiny leigh M.
16:10 04 May 21
AB was very professional, he worked hard to accommodate my needs and get me into a property. I recommend any one who visits Reedy and Company to ask for him!
Things were not goin well for me I got so many bad reviews about reedy and company I got discouraged I'm a firm believer in to each is own and different strokes for different folks lol but anyway I went in applied kept my fingers cross never heard anything but didn't notice my email AB WAS AND AWESOME AGENT when I missed call he email he was pretty quick with getting me approved and moved in thanks we appreciate you
Destinee B.
17:33 30 Apr 21
Going through Reedy & Company was a good decision that I made. The realtor worker I had was AB & he made sure that I understood the process & helped out so I could find a house. I appreciate the honesty he kept & appreciate that he made sure that finding a suitable house for me was important to him just as much as it was important to me. AB is one of the most respectful, genuine, honest workers that they have & I'm glad he was the person I got to have to help with finding a home. Thank you to Reedy & Company & thank you to AB for being a genuine person when it came to any situation that was brought about trying to find a house while going through the process. I recommend Reedy & Company and I recommend going to AB if you decide to go through Reedy & Company. They are great for helping & actually trying with you.
Karolyn H.
16:17 23 Apr 21
I haven't meet a realtor company with workers who was willing to help you find a home until I went to Reedy & Company; the person who specifically helped me was AB. He made sure I felt welcomed to be there & honestly kept it real with me from the start. That's what some people look for & what most people need when it comes to renting/leasing a house/apartment. AB was genuine & honest in his approach to helping me & I appreciate that because you won't get that from everyone but if choosing a realtor from a realtor company to go to where someone understands your troubles or what you're looking for then go to Reedy & Company & ask for AB, he makes sure you understand the process & keeps you updated on what you need to do in order to move into a house/apartment. The professionalism from AB was there & making it feel like you're welcome to come in at any time if you need help was there as well. I can't speak for someone else's experience, but my experience with Reedy & Company was great & I recommend going to them to find a home for you/your family to be in. Thank you to Reedy & Company & thank you to AB for helping me find a home that was there.
Reedy & Company provide truly exceptional property management services. It's a great pleasure doing business with them and never fail to be impressed by their thoroughness and breadth of service. Thanks a million!
Just moved into my new home and I couldn't have made a better choice when I chose Reedy and Company. And leasing agent Ab is very patient and professional. If you looking for a home go see him… he will take care of you!
Charletta K.
15:02 19 Apr 21
Very efficient at finding tenants, very responsive to requests, and overall just help make the investing experience seamless, especially for out-of-state investors!
I had the privilege to encounter AB .he demonstrated a profound level of service throughout the process. He was professional, friendly, knowledgeable, adaptive and more than willing to listen to my concerns and answer all of my questions.He was very honesty and coached me through the whole process and helped me fine the great house in my budget and I DIDNT HAVE GREAT CREDIT I was honest with him and he made my dream come true he most definitely is the GOAT AND BY THE WHY I GOT DENIED BY THE COMPUTER but AB I had faith in me and wasn't giving up on me or my situation until I got in my house when I first came he turned me back around he told me get your gross up and come back in 4months I got you and I did just that and I'm 22 with my own house and by the one yesssssssss I'm a first time renter get at my boy ❤️
Quanetra P.
12:37 02 Apr 21
AB, is an awesome guy, recommend them for finding a new place to live
AB was a great helping hand in finding my home that would feel like home. Great space and a great neighborhood. If you want a worker that puts you first ask for AB highly recommended.
This place has given me the opportunity to show myself proven and accountable when others has shut the door they gradually opened theirs…. Mr. A-B has shown me concern and patients along with common curtiousy. I do recommend they're business to other clients…
AB helped me out in a bind. Very professional and keeps you up to date with your property. I would recommend anyone to go see him. Truly a blessing!
I had a Absolute wonderful experience the guy Ab was very patient. He gave me his word on finding us a house and did just that. Thanks yu. Bionka/ Alshajuan
Felecia Scaife And Ms. Beverly where superb!! Made me feel at home with there outstanding customer service.
Came out and resolved my maintenance issue quickly. Called and made sure repair was completed.
Melanie F.
19:27 05 Mar 21
Hey I had the privilege with working with Ruth☺️☺️ An she was amazing I called her explained my situation an she helped me in every way she could to get approved. She was responsive, listen an gave great feedback. I was walking on egg shells thinking I wasn't gone get approved luckily within a few days MsRuth called an told me I was approved. I was overwhelmed after constantly getting denied from other companies.. if you are looking to rent through a great company please go to Reedy an company an ask for MsRuth.. thanks
charlisa W.
18:39 04 Mar 21
My pipes burst and Reedy& Company toke of the situation immediately. Their maintenace department is excellent.
Absolutely the most positive experience I've had with any rental company. I would choose this company if you're looking for a great experience from beginning to end. Beverli is so kind and understanding to your needs. I consider her a miracle worker. She has taken care of any questions I had in a timely manner and went above and beyond to help me. Trust me when I say you will have a positive experience.
Treneka S.
16:50 26 Feb 21
I have been working with Ruth Martinez through this process of finding a home. Her customer service is always top-tier and after every conversation, I'm always satisfied with the experience in regards to updates and finding a place!
Mrs beverli is my leasing consultant. Thus far she has been very helpful. She keeps in contact with me . I actually move in today. Property is definitely ready as expected. I'll be back once I move in to write an updated review .
Lois Davis is my landlord of 5+ years, I truly can say I don't know if I would have been here this long if not for her Professional and determined courteous way of dealing with me as a tenant with Reedy and company, she does her absolute best to get right on any and every situation I've had since 10/25/2015 the first day I moved in.
I had the privilege to encounter Ruth. She demonstrated a profound level of service throughout the process. She was professional, friendly, knowledgeable, adaptive and more than willing to listen to my concerns and answer all of my questions. Ruth's responsiveness is unmatched by competitors. She responded to EVERY text message and returned EVERY call timely. She was attentive and made me feel valued as a potential consumer. Ruth's excellent customer service exceeded my expectations and I will recommend Reedy & Company to my family and friends simply because of Ruth's dedication and service.
I had a wonderful and seemless transaction with Reedy and Company but it wouldn't haven't gotten done without AB he is the real goat… So come through and let him help you
I want to thank Absalom Roger's for helping get me a townhouse thur the company. He is about his words and without him helping me and my kids wouldn't have this beautiful townhouse. Again thank you
Tanesha B.
19:04 09 Feb 21
Jill has been FANTASTIC to work with. She has been able to respond quickly to my emails and phone calls. Very polite on the phone and I look forward to working with her and the team!Edit: 2-8-21 Been working with Reedy for a year now and they have been amazing to work with! Jill has been able to answer all my questions quickly and professionally. I am excited to build my portfolio with Reedy!
Preston N.
21:18 08 Feb 21
I have been renting from Reedy for a few years. Everyone helps the best of their ability. Ruth helped every way possible. She is absolutely awesome and flexible. She made everything super convenient!
Christian M.
02:24 05 Feb 21
I wanted to come back to give an update!! I am still living here going on 2.5 yrs and my experience is still 5 stars. I just have to make it known that unfortunately Tabetha is no longer here but she was replaced by an ANGEL… Ashleigh. She has answered every one of my concerns with grace and has had patience with me even when I didn't have any. These are truly trying times that we are in and she has gone the extra mile X10 to help myself and my family when she didn't have to. We THANK YOU and APPRECIATE all you do Ashleigh..sending you many blessings!!@Reedy and Company..Please give Ashleigh a raise, she deserves it!!
Jasmine H.
02:29 30 Jan 21
I had the privilege of working with Ruth Martinez. She was awesome. She was available, knowledgeable and very personable. I needed to move and she answered any questions about the properties I was interested in. She is very down to earth but professional, I felt like I had known her for years. Thanks Reedy and Ruth.
Latonia C.
01:55 21 Jan 21
Ashleigh Morgan is commited to her property and tennents. She is highly responsive to the needs of the property. And welcomes new applicants with care.
I've owned rental houses in different areas around the US and Reedy has been by far the best to deal with. Very responsive and on top of things (especially Jill!). They've also assisted in selling one of my homes as well. All around good company
Ruth Martinez help assisted me with finding a home very professional and patient 🙂
Tysheka M.
21:27 31 Dec 20
First time renter here 👋🏼 and it was honestly nerve wrecking and hard trying to search the "perfect" apartment. But Mr. AB was VERY professional and positive and walked me through the process every step of the way!!! He was very kind and very responsive. Communication was on point !!! definitely would recommend to anyone !!!